Your GAME store where
EVERYTHING

is FREE!

Plus score free premium loot, earn ranks, unlock exclusive rewards and much more!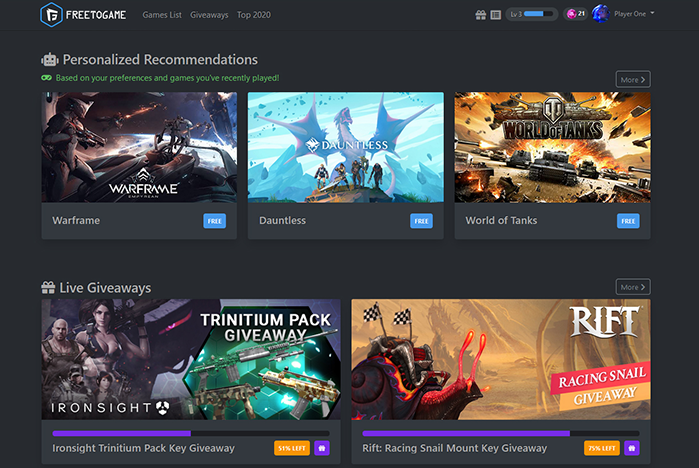 What is FreeToGame all about?
We built FreeToGame to create an ecosystem that brings all the best Free-to-Play Games and MMO Games into one place while rewarding gamers with free premium in-game loot, special offers and exclusive perks. Our vision is to create the most exciting and rewarding gaming experience by breaking the inflexible concept of digital storefronts. You get more value... and it's all still completely free.
More Rewarding
Score all premium loot for free, unlock rewards and exclusive perks!
Easy Discovery
Discover games easily and get introduced to new ones.
Smart Recommendations
Get personalized recommendations powered by our own algorithm.
Direct Downloads
Download your games directly using the power of the cloud.
Collect Games
Manage your games library and add games you want to play.
Community-Focused
Voice your opinions, submit reviews, suggest new features and more!
Enhanced Experience
Level up your account, unlock Gems daily, earn Ranks and more!
Plus More!
We're just getting started! Expect new updates and features.
Who Whe Are
We are a small group of passionate gamers and tech enthusiasts. Our independent company, Digiwalls Media, is fully bootstrapped and our team currently works remotely from United States, Europe and even Asia.
We are as indie as it gets, but for more than 13 years we have worked and collaborated with incredible companies including Microsoft, Sony Interactive Entertainment, Nintendo, Square Enix, Paradox Interactive, Warner Bros Entertainment, Bandai Namco, Wargaming, Perfect World Entertainment, Nexon, Webzen, Gamigo and hundreds more.
Right now, we are working closely with the leading free-to-play gaming companies in the world to bring you the best free-to-play has to offer.