Home > Special Offers >

Battle for the Galaxy: Ice Bastion DLC Steam Key Giveaway
Battle for the Galaxy: Ice Bastion DLC Steam Key Giveaway
FREE
---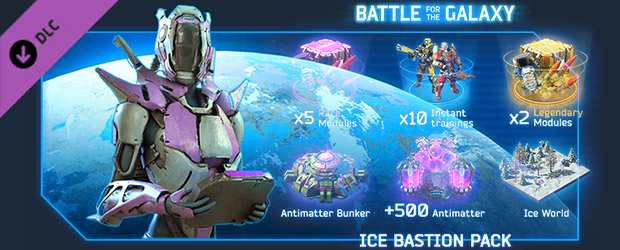 Claim your Battle for the Galaxy: Ice Bastion DLC Steam Key for free!
Claim your Battle for the Galaxy: Ice Bastion DLC Steam Key and unlock free premium currency, modules and much more!
How to Redeem Your Key
1. Download Battle for the Galaxy via Steam.
2. Launch the Steam client software and log into your Steam account.
3. Click the Games Menu. Choose Activate a Product on Steam...
4. Follow the onscreen instructions to complete the process.

Note:
Please note the base game Battle for the Galaxy (Free to play) is required to enjoy this DLC content.
Key Details
Each key unlocks the following:
- 5 rare modules: modules provide permanent boost to your army and buildings
- 500 antimatter: premium currency to spend on special buildings or lootboxes
- 10 instant trainings: replenish your forces instantly and return to the battlefield
- 2 legendary modules: even more power for your army!
- Antimatter bunker: unique bunker that can be built over capacity
- Ice world: icy decoration for your base (can be changed to default and back if needed
About
Battle for the Galaxy is a free-to-play cross-platform MMO strategy game. Battle for the Galaxy features player controlled development of the space outpost, further defending that outpost from other players, as well as attacking outposts of other players.
More Offers
Live Special Offers
More Games
Play For Free