Home > Special Offers >

Conquer Online Inspired Ninjas Gift Pack Key Giveaway
Conquer Online Inspired Ninjas Gift Pack Key Giveaway
FREE
---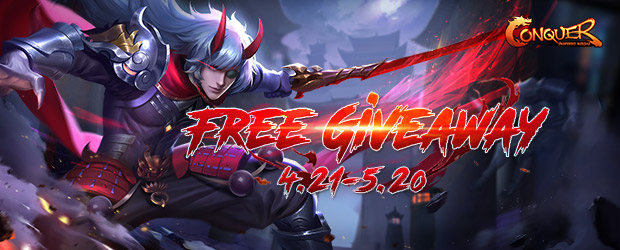 Score Conquer Online Inspired Ninjas Gift Pack Keys!
To celebrate the new Ninja class, FreeToGame and co.99.com are working together to bring you a free Inspired Ninjas Gift Pack with lots of in-game items for Conquer Online! Claim you pack now, gather your Ninja squad and fight back!
How to Redeem Your Key
1. Sign up for FREE on the Event Page.

2. Download the game and login to create a new character. Click START TO PLAY CO on the event page to download client.

3. Come back to the Event Page, submit your character info and your gift code to claim your gift pack!

4. Login to the game and claim your prizes from your in-game mailbox by clicking on the mailbox button on the top right corner of the game screen.
Key Details
Each key unlocks the following:
- EXP Ball (B) x 10
- EXP Potion (B) x 5
- Praying Stone (M) (B) x 2
- +2 Stone (B) x 1
- +3 Steed (B) x 1
- Choose one mount armor from Red Deer, Furious Tiger and Bronze Rhinoceros.
- Choose one garment from Dark Wizard, Samurai Legacy and Classic Fashion.

Note:
- The event ends on May 21st.
About
Following Trojan, Ninja, another classic class in Conquer Online, is about to awaken! Ninja will have a thorough change and bring you a brand-new experience! Conquer Online is a free-to-play PVP MMORPG which skill to win gameplay. Conquer Online will come to its 17th year on May 5 and during the 17 years, Conquer Online has drawn a large number of players worldwide.
More Offers
Live Special Offers
More Games
Play For Free