Home > Special Offers >

Conqueror's Blade Empyrean Order Pack Key Giveaway
Conqueror's Blade Empyrean Order Pack Key Giveaway
FREE
---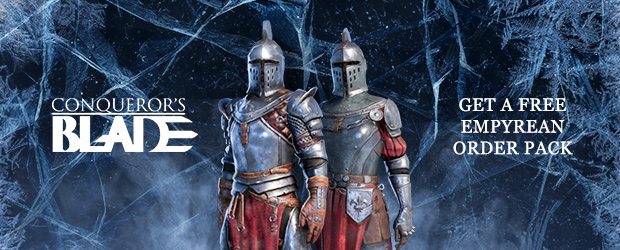 Claim your Conqueror's Blade Empyrean Order Pack Key!
To celebrate the recent launch of Season VI: Scourge of Winter, FreeToGame and My.com are working together to bring YOU a free gift pack full of in-game items for Conqueror's Blade! Get your key now while supplies last!
How to Redeem Your Key
1) Head to the My.Games Conqueror's Blade website here.
2) Log into your My.com account
3) Enter code in "Promotional Code" section and select "View Code Content"

*Keys Expire on 01.31.21
Key Details
Each key unlocks the following:
The Empyrean Order Pack grants warlords with the garb of the Empyrean Order, the personal guards of the old royal families of yesteryear plus more!

- Empyrean Order Hero Attire x1
- 3-Day Premium Account x1
- Optimal Ballista x4
- 10-Battle Hero XP Card x4
- 10-Battle Unit XP Card x4
About
Conqueror's Blade is an MMO game set in a huge open medieval world where you can build your own army using different medieval and feudal units, fight for castles and land, engage in massive online siege battles, and achieve victory through cunning tactics and combat skills.
More Offers
Live Special Offers
More Games
Play For Free