Home > Special Offers >

Eudemons Online Gift Pack Key Giveaway
Eudemons Online Gift Pack Key Giveaway
FREE
---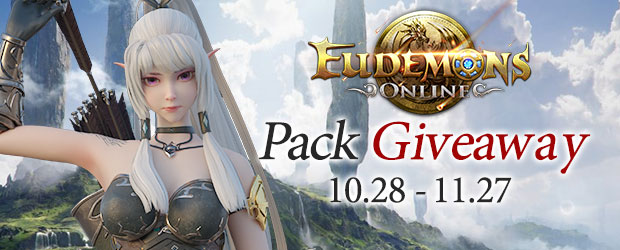 Claim your Eudemons Online Gift Pack Key!
To celebrate Halloween, FreeToGame and Eudemons Online team are working together to bring YOU a free Gift Pack full of in-game items for Eudemons Online! Get your key now while supplies last!
How to Redeem Your Key
1. Sign up for FREE on their game page here.
2. Download the game and login to create a new character.
3. Open "Hot Event" on the top right of the game and claim your code on Gift Pack Code page.
4. Then you can get gifts through mail.

Notes:
1. Event Duration: Oct. 28th to Nov. 27th(PST)
2. Code can only be used in new server Delphinus.
3. Only for the new players who have successfully registered during the event
Key Details
Each key unlocks the following:
- 1 Million Gold
- Graceful Fiery Soul Pack (30 Days)
- Elf Nevaeh Pack
- Sea of Stars (14 Days)
- One set of Level 51 Super Equipment
- One Level 71 Super Weapon.
About
Eudemons Online is a Free-To-Play fantasy MMORPG. In this mythic world, you can choose to be a Warrior, a Mage, a Paladin, a Vampire, a Necromancer, a Shadow Knight and a Ranger
More Offers
Live Special Offers
More Games
Play For Free